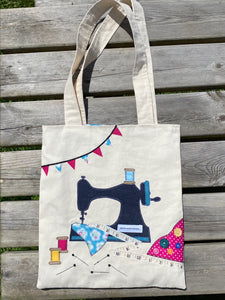 'Sewer's Paradise' Applique Tote Bag Kit

This comes with everything you need to make this sewing themed applique tote bag. Including full scale, reusable paper pattern, step by step picture instructions and all the fabrics, trims and notions.

What you get:
> Quality heavy weight cream cotton fabric for main and straps.
> 100% Cotton floral fabric for the lining
> Buttons, beads, ribbon.
> All applique fabric pieces and bondaweb

Size: Approx 14" x 16"